Pléiades was originally set up as the optical component of the Franco-Italian ORFEO programme (the radar component being COSMO-SkyMed). Several other European countries also participated in the Pléiades programme: Austria, Spain, Sweden and Belgium. The Belgian contribution was the continuation of our cooperation with France in the SPOT programme, and covered 4 % of the cost of Pléiades.
In return for our contribution to the Pléiades programme, Belgian institutional users can profit from an amazing opportunity:
Instead of paying the commercial prices, authorised users can purchase new acquisitions as well as archive images at production cost. We will be happy to send you a price list upon simple request, and you'll also receive one upon registration.

As soon as an authorised user has purchased an image, it will be stored in this portal, and after three months it will be made available for download through the Geo Search section.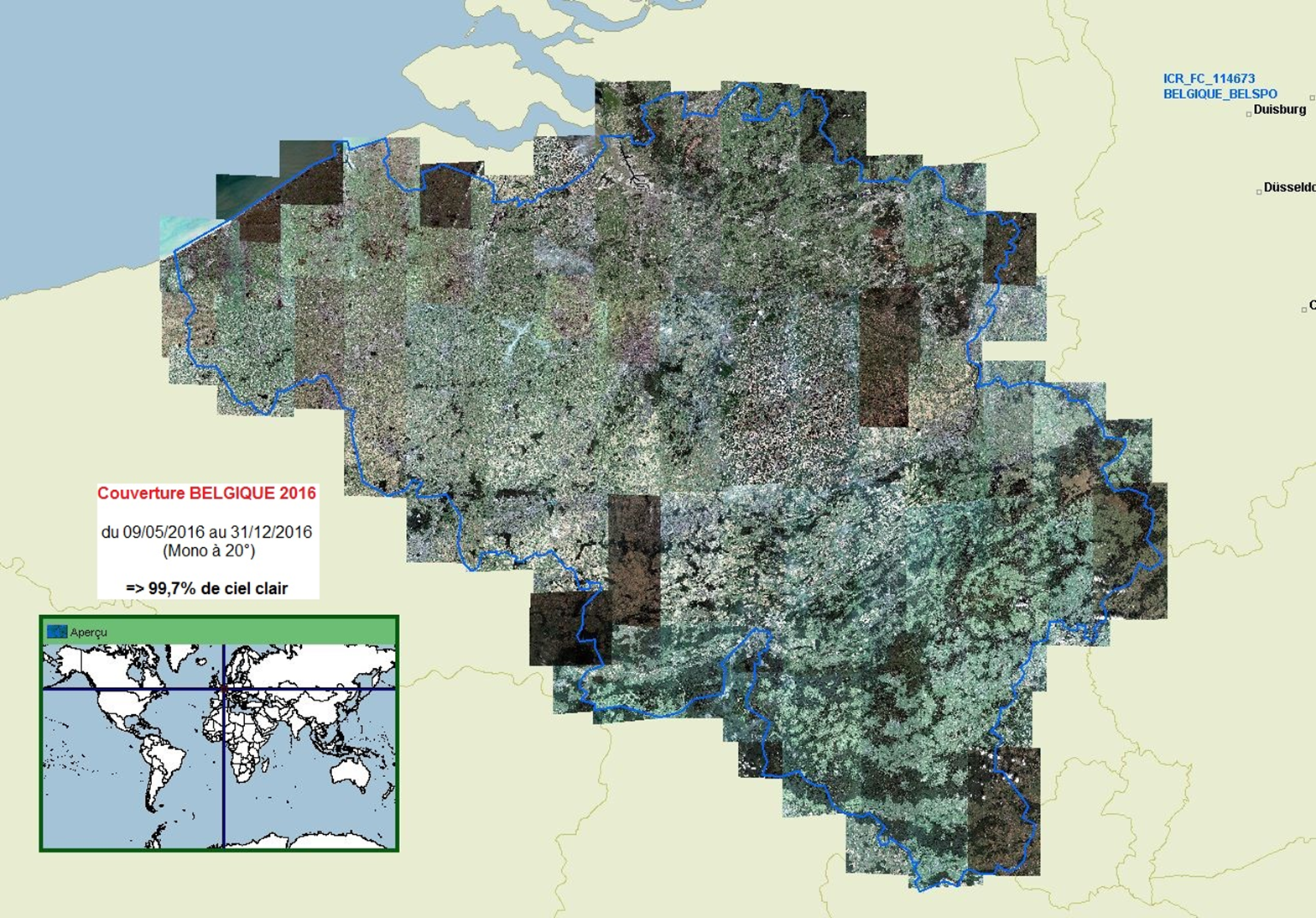 2013: Complete coverage of Belgium
Over the course of 2013, the Belgian federal and regional authorities joined forces to acquire a full coverage of Belgium in Pléiades images. These images have been uploaded to the Geo Search, and are now available for all authorised users.
From 2014 to today: partial coverages at reduced cost
However, if you're interested in more recent data over Belgium, it's good to know that Airbus D&S has kept acquiring (partial) yearly coverages of Belgium since that first fruitful endeavour in 2013. For an overview of all the images acquired over Belgium since 2014, be sure to check out this Google Earth file. Please note that all of these images are available in the Airbus D&S Geostore archive.
If you're interested in purchasing any of these images, check here whether you can be considered an authorised user, and choose one of these options:
Commercial users can go and purchase the data at commercial prices over on Airbus' Geostore website.
(Future) authorised users can enjoy huge discounts. To get these, you first need to take a few steps:

Write down the Airbus-Geostore references of the desired images;
Place a preorder request on this website (if you're not an authorised user yet, you need to register first);
Once your request has been approved, we will provide you with the necessary credentials to finalise your order with Airbus.